Odium
Talk

0
449pages on
this wiki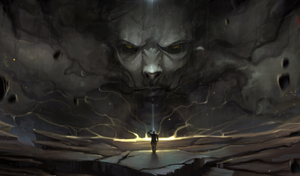 Odium is a deity of some sorts, and probably is evil. His name is first spoken about in a vision Kaladin has. He later asks Syl if she had heard the name, and she hisses and flies off, the name obviously distressing her.
In a vision given to Dalinar Kholin, it is revealed that Odium had killed the Almighty, although his means for doing so are extremely unclear.
Quotes
(Quote related to Odium beeing a Shard of Adonalsium and...)
"ODIUM COMES. MOST DANGEROUS OF ALL THE SIXTEEN."
A voice in Kaladin's dream, TWoK Chapter 46: Child of Tanavast.
(Quote related to The Thrill?)
Kaladin - "Why is there so much war? Must we always fight?"
Unknown Voice - "ODIUM REIGNS."
Kaladin's dream, TWoK Chapter 46: Child of Tanavast.
It is beleived that Odium is probaby a Shard of Adonalsium. His power is evidently hatred, and may have some relation to the Thrill that men feel at war.
He may be Rayse and It is suggested in the Letter Epigraphs that he had something to do with what happened on Sel and the death of Aona and Skai of Elantris.
This suggests that he can move between planets and also possibly that he left Roshar for a time. [1]
References
Edit