Chull
Talk

0
450pages on
this wiki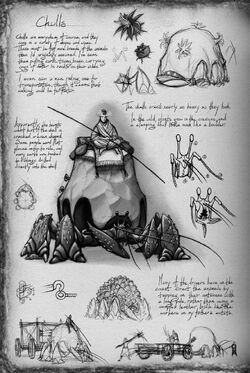 A chull is a crustacean creature with red carapace, thick red legs with claws, and shells like stone. They are often used in place of horses for hauling.
Chulls are everywhere, and they come in a variety of shapes and sizes. there are many breeds of the animals.
The shells are lighter than they appear and Chulls are not hurt when the shells are cracked or shaped. Some people sand flat places on top to ride, and many carts are hooked to fitting drilled directly into the shell.
There are two major ways of directing a Chull one is similar to a horse, with complex leather workings, and the other involves tapping the antennae of a Chull with a long pole to indicate direction.
Dalinar Kholin used chulls to pull bridges across the Shattered Plains during the war, rather than put the lives of bridgemen at risk.